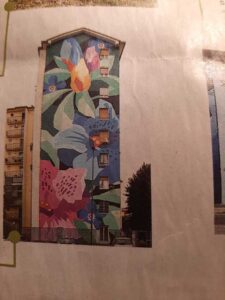 Loretta Pettinato
(Translated by Laura Pettinato)
Born in New York in 1972 as a rebellious, provocative movement, street art became a fully-fledged artistic movement thanks to the work of Basquiat and Kit Haring, as well as becoming a worldwide phenomenon that can be found in every city.
Along with other cities, Milan recognized how much potential this form of art holds. Thanks to the establishment of the new office Art in Public Places, it locates and assigns areas in which artists can express themselves freely, without harming the rights of others. We are well past the point when walls were constantly tagged by vandals. Nowadays, the goal is to move beyond clandestinity to legality, from night-time joyrides to important projects, even though many of the artists criticize and object to this change, believing it to be a form of treason.
Today street art has invaded the city as a wave of vitality; it feels like visiting an open-air museum, which extends from the centre to the outskirts, with beautifully coloured murals, painted with different styles and techniques. One can find cheerful and imaginative graffiti, which add beauty to suburban areas; others recall important characters from Milan's cultural life, as well as ones that cover very large areas, the result of the collaboration between national artists and high-schoolers. Very important are the murals depicting current events and a commitment against racism and violence.
To complement this initiative, the Arcimboldi Theatre organized the Unknown Street Art Exhibition, dedicated, as the name suggests, to street artists. Visitors will find pieces from Banksy and other artists including Blu, 3D and Delta 2. Banksy, born in Bristol, can be considered the king of this artform and his pieces are found in prestigious art galleries. His work expresses compassion and delicacy while recognizing the fugacity of human feelings (Girl with Balloon), sardonic humour towards our overly-individualistic society (Flying Ghetto Rat), and non-violent resistance to all forms of oppression and abuse (Rage, Flower Thrower). Street art can be loved, hated or criticized, but people must recognize that it brought art closer to the people, offering a simple language whose messages and content inspire emotions and shake consciousness.