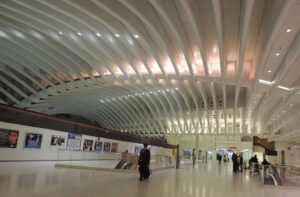 Back in New York for a visit after four years away, I was taken to see the Oculus, Ground Zero's most distinctive new building. The World Trade Center transportation hub designed by Spanish architect Santiago Calatrava.
This colossal building is a colossal waste of a colossal sum of money; four billion dollars. I cannot describe it better than by quoting Martin Filler in the New York Review of Books:
"What was originally likened by its creator to a fluttering Paloma de la Paz (Dove of Peace) because of its white, winglike, upwardly flaring roofline seems more like a steroidal stegosaurus that wandered on to the set of a sci-fi flick, and died there."
It's possible these jutting white ribs would be effective if you came upon them in the middle of a huge empty space, a desert or a prairie. Sandwiched between skyscrapers they are simply bizarre and absurd, even more so because there was not sufficient room for the full sweep of the roof, so at the back entrance where one side of the roof is suddenly truncated, the bird, even if you can imagine one, is broken winged and made me think of an injured gull about to leave its usual calling card.
I wondered, too, if this strange design was in part planned or chosen because of the stories once circulating that a mosque might be built at Ground Zero and therefore, something as unlike a dome as possible was wanted. That at least it is, and the vast interior is arched, not domed. It is an impressive space but just that; big interior spaces are impressive by definition. However, its blank whiteness soon dulls the imagination and even sooner when you take in the fact that this is another cathedral to shopping, another big-name mall.
My architect brother-in-law pointed out that the snowy marble floors are already developing stains and cracks and worse, lead without warning to a staircase with no rails. The rails at the far side, put in later when the danger became obvious, are clearly not sufficient. Nor is there outside the building any indication, or inside any celebration, that this is a transport hub, a glorified subway station. Tourism and shopping is all.
What a relief, after that, to revisit Grand Central, whose beautiful functional interior still somehow holds the excitement of travel, the sense of a great Continent beyond, and still, after all these years, takes my breath away.
Frances Oliver, Book Editor
Volume 32 no 4 March/April 2018 pp 27-28