Rigoberto Luna
I came up in the Do-It-Yourself culture of grassroots art activation, mobilizing and empowering communities in the San Antonio area through the love of art while overcoming the limitation of available resources. In my late teens and early twenties, I witnessed the birth of humble cultural arts organizations and nontraditional art spaces. I soaked up the teachings of community organizers like Manuel Castillo (San Anto Cultural Arts) and local art icons Alex Rubio (R Gallery, R Space, Rubio Gallery South) and Joe Lopez (Gallista Gallery) in San Antonio's vibrant art scene. In the late 90s, I experienced first hand a surge of new alternative venues exhibiting the works of young and highly motivated artists, including Vincent Valdez, Juan Ramos (San Anto Cultural Arts), and Cruz Ortiz (San Antonio Cultural Arts, Snake Hawk Press).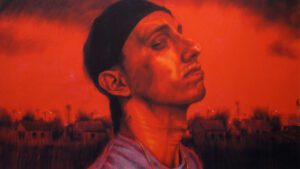 This was by no means a novel phenomenon for the art community in San Antonio, a city known for repurposing every affordable nook and cranny, warehouse, or home to create studios, creative spaces, or in some cases, galleries. As the saying goes, if opportunity doesn't knock, build a door, and in San Antonio this is a time-honored tradition. This energy produced such institutions as Blue Star Contemporary, the Guadalupe Cultural Arts Center, and Sala Diaz.
DIY spaces have been critical to the development and vibrancy of the San Antonio art scene. This model gives up-and-coming creatives without institutional ties and familial privilege, a chance to gain experience and feel good about building something of their own from the ground up, while providing and learning necessary lessons along the way. Successes and failures are equally educational.
Betting on and investing in one's own vision leads to the building blocks. You develop your artistic taste, what subject matters move you, what artists you're drawn to, and you find out more about yourself, all the while giving yourself access to artists in new ways. It's community building at its core. You get to know the artists in depth and understand their practices, their thinking, and how they like to work. Your audience can directly engage in ways nearly impossible to achieve in larger institutions or museums. These community spaces are people-driven, not art history-driven. By operating this way, a subculture becomes more invested, develops personal and professional networks, and witnesses an artist's career grow. If members of your audience have the means to acquire and collect artwork, they do it at a point when the artists need that support and reassurance the most.
As the city grows and gentrification rears its head, the DIY space has endured. Names and locations may have changed, and the operations have increasingly become more social media savvy, consistently pushing the model to reflect our times. But the authenticity and energy remain, linked to a community tied to a long history of brash space-makers, from Andy & Yvette Benavides (1906 Studio), to Justin Parr & Ed Saavedra (Flight Gallery), to Sarah Castillo (Lady Base Gallery). These self-reliant spaces have served as incubators for young emerging talent for decades, and have provided opportunities and visibility for lesser-known artists who have otherwise not been given a chance. Much like the bloodline of the Austin music scene is its large number of music venues, artist-run spaces keep the San Antonio art scene fresh and thriving. Due to the continued marginalization of BIPOC and LGBTQIA+ communities in more prominent museums and institutions, these spaces allow for critical conversations and perspectives by a truly diverse array of voices exploring new futures, contemporary societal ideas, and real-time concerns.
In contrast, larger institutions continue to revisit and revamp their commitment to diversity and community engagement due to previous shortcomings and a failure to fully reflect the communities they serve. Audiences and demographics are in a constant state of change, and art institutions, by and large, have not met the challenge of mirroring society.
The impact of seeing artists and narratives that reflect oneself in art spaces is fundamental to uplifting BIPOC and LGBTQIA+ communities and building a sense of belonging. As a first-generation Mexican American, visiting a museum was a rare occasion for my family. I was eleven years old when we visited the San Antonio Museum of Art to see the landmark exhibition "Mexico: Splendors of Thirty Centuries". I was entirely unaware of how important it was to our father, a blue-collar man, to share Mexico's artwork and rich history with his family. Still, it left an indelible mark on my brother, Ruben Luna, an artist himself, and me.
A few years later, my brother and I discovered the work of local artists Jesse Treviño, Cesar Martinez, and Adan Hernandez (El Otro Ojo Gallery). The simple idea that these artists were based in our hometown with names that looked and sounded like ours, made the pursuit of art viable, and allowed us to see ourselves differently, laying the groundwork for new possibilities and creative avenues, because they created and thrived in San Antonio. Psychologically, seeing these reflections and feelings being represented can drive the cultural shift, and give voice to a group of people that has been largely silenced and devalued. At a highly divisive time in our country, art institutions must maintain the capacity to connect us. They must genuinely see others in order to form a deeper understanding of other perspectives.
Growing up in working-class communities while working at art institutions, promoting their core values of inclusivity, diversity, and inclusion, the need for a cultural change and a break from the status quo has grown increasingly evident. Many criticisms—the lack of outreach to communities of color, the disparity in institutional staff, and the gender and racial inequalities in exhibitions and permanent collections—are being addressed, but change is slow. The need for independent spaces of our own, centered on non-white histories or narratives, that offer a more accurate reflection of the city's makeup, all while empowering marginalized voices and creating cross-cultural conversations, is as needed now as it ever was.
In October 2016, my partner and I, interdisciplinary artist and Corpus Christi native, Jenelle Esparza, established our own DIY passion project, Presa House Gallery, inside a 1300 sq. ft home in San Antonio's historic Lavaca District. We were ambitious and unconcerned with the sustainability of the business or financial gain, and we felt some artists weren't getting their fair share of exhibitions, if any at all. Our gallery centered on brown artists, but not exclusively. Many were fresh from art schools across the country, others were completely self-taught. We kicked off by presenting artists in our circle, like Michael Menchaca, Suzy González, and Albert Alvarez. We felt the work, issues, and the narratives of our early exhibitions helped the principal focus of our gallery take shape.
The work wasn't traditional Chicano Art nor was it Eurocentric. Much of it focused on biculturalism, acculturation, identity, and place. It felt timely considering the concurrent political climate in the United States. To us, these artists' voices were as important as any in the country. With Trump newly elected, and the border wall his call to arms, we looked to South Texas to establish relationships with artists in the Coastal Bend and Rio Grande Valley regions. We eventually worked our way around all corners of Texas, and collaborated with established border artists like Cande Aguilar, Gil Rocha, and Jose Villalobos, as well as emerging names like Josie Del Castillo and Alejandro Macias. The bridges and connections built through cross-pollination and engagement with art communities across the state helped us identify similarities in content: fears, concerns, stigmas, traumas, mediums, and the visual lexicons that we share.
Utilizing the lessons we learned from our predecessors, we developed our own methodology in providing regional support to artists of color. Here, artists could experiment and bring in ideas crucial to them without judgment or fear and feel a support that offered genuine understanding. Our strategy wasn't one of resistance but of equity, developing a platform and program that would allow traditionally marginalized artists to succeed within an ecosystem adapted by like-minded creatives of color. Without tokenism or imposter syndrome, the goal was to normalize the regularity with which their narratives and family histories are creatively unpacked and shared.
Our efforts have been effective, garnering the attention of collectors from coast to coast, and the eyes of museum curators throughout our region, by developing and amplifying the complex and diverse perspectives of local and regional Texas talent. My path in the arts, both personally and professionally, was lit and inspired by many. Through the nurturing of our space we strive to maintain and build upon the foundations of those individuals, and make our contribution to the rich tradition of San Antonio DIY spaces with hopes of empowering a future generation of art advocates and space-makers.
Rigoberto Luna is the Co-founder and Director of the Presa House Gallery in San Antonio, TX. He's developed numerous exhibitions focusing on Central and South Texas Latinx artists. Additionally, Luna works at the San Antonio Museum of Art.