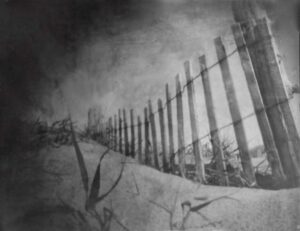 Michael Ryan's photos are almost too private to be seen. However, luckily for us, they were in a recent exhibition of his work in Marx Tavern in Mount Pleasant in Washington D.C. Ryan's work is very inside himself, in a dark room. He makes photos rather than shooting them. It is almost as each picture is carved, a mono print so to speak, there really are no editions. Just similar shots. And his choice.
He makes long use of his darkroom as the central focus of his work, between himself, light and photographic paper or infrared film and perhaps a basic sense. Mike makes his own pinhole cameras, usually from a plastic bucket with a pinhole exposing light through the hole onto tapped photographic paper. The challenge is to calculate the time he must expose light through the hole onto the paper. Each shot is developed, if you will, by hand, as it is an experimental process to print each shot. He does not use any tech assist or photographic equipment, this is all accomplished through trial and error – a discovery process.
If he is not in fields a far taking pinhole imagery, he uses a simple box camera with infrared film. These shots are then once again "come upon". He must tape the camera shut, light safe, so as not to expose and spoil his ever so sensitive film. A precarious process in the unloading or loading … it must be in the dark. The result is a luminous dreamlike picture that he "sees over" as it comes into fruition as he carefully brings it up. Many will be cast aside as he decides if they do not "work". He insists on the most elemental of techniques in photography, the relationship between light, a basic lense, his solitude, journeys to locate a new print and a ongoing critical eye. His images are both historic or the touch of nostalgia, as photography of the ninetieth century, or even the camera obscura. How history beckons. Photography at its basics comes alive as Michael works and then appears in his time.
Al Jirikowic, Washington Editor
Volume 32 no 4 March/April 2018 p 30