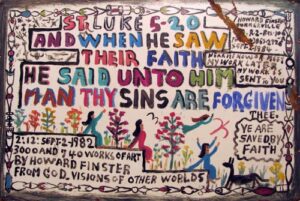 Haitian Artist Manuel Mathieu, (b. 1986) was raised in an environment infused with both danger and beauty. During the nearly two decades that he stayed in Haiti, he witnessed constant political upheaval in addition to rampant disease, and ongoing natural disasters, while imbibing the rich history of art and independence that is integral to the culture of Haiti. In an atmosphere where life, death, suffering, and great beauty are inseparable, Mathieu learned to wholly embrace the ephemeral with the tangible in life.
Mathieu's visual language, drawing from his own Haitian heritage (he received an MFA from Goldsmith University in London) draws inspiration from Haitian folk art, such as the sculptural work of Jean-Brunel Rocklor, on which Mathieu's Riviere Froide paintings are based. He has also been greatly inspired by the Irish Painter Francis Bacon to convey agony, and to turn the grotesque into the sublime.
All of the work in the show feature paintings that have only been painted on the surface of the canvas, not around the edges, reinforcing painting's traditionally two-dimensional presentation (painting as window).
His life-sized canvases engage the body as well as the eye, the muddy, neutral warm tones of the pigments leave the viewer feeling calmed, in spite of the frenetic energy conveyed on the surface of the canvas. The majority of the pieces, which are more representational than abstract, hearken to other Afro-Caribbean artists, such as Olivier Souffrant and Jean-Michel Basquiat.
While his work veers through different styles, from austere minimalism in works such as 28/11, in works like 'First Steps', to where he treats the canvas as if he were imitating Lucio Fontana, exploring the physicality and permeability of the painting's surface. It is his quasi representational/abstract imagery that is the hallmark of his style. Recognizable objects such as bricks, bodies, faces and piles of debris are possibly references to parts of the world where "nothing ever happens", (at least nothing we can see) in the global south – where terrible crimes are left unreported and people are left behind. In spite of the doom and gloom that these works inspire, one can't help but feel a sense of ease and comfort, as if these paintings are just right; not only for the current political moment, but perhaps for a long time to come.
Manuel Mathieu, Nobody is Watching, Kavi Gupta (835 W. Washington) March 23-June 02, 2018
Spencer Hutcinson
Volume 32 no 6 July/August 2018 p 32