Leon Radegonde's work is a reminder that the Seychelles isn't just about a tropical paradise. His use of everyday materials – salvaged waste, old sheet metal, shop keepers' notebooks, sackcloth and rags – intimates the social struggle these islands have witnessed. He honours many of his people who would decorate their wood and tin walls with layers of pages cut from magazines, and mend and remake bedlinen.
Radegonde's studio in Mahe, Seychelles, is also his gallery and home. An uncluttered white space in which there is a sense of beauty and harmony. Agricultural implements hang alongside small photographic portraits printed onto plywood and mounted on dark wood. Ropes of painted rag beads frame the photographed portrait of a young man printed onto rust-pitted sheet metal, half of whose wistful face is hidden in shadow. Radegonde cites Rembrandt as an influence in his portraiture.
Pages of handwritten mobile phone numbers from the notebooks used by the corner shops which top-up customers' credit are applied onto burnt canvas stretched on plywood and displayed in threes. He shuns colour, saying it "acts like a parasite, preventing you from looking at the content of the art".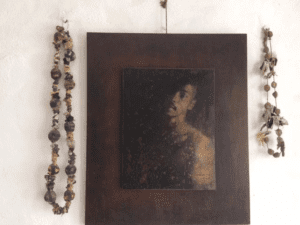 His current works are his tapestries – created from large sheets of unstretched sackcloth sewn together, then wrapped around wet rusty iron for days, resulting in criss-crossed brown patterns. Used engine oil creates shades of grey and brown, and drips of white emulsion paint reference Pollock. Small pieces of patterned cotton may be sewn on by women in a sewing shop. He adds random letters, numbers and symbols in epoxy resin or charcoal, saying these could be secret messages – the interpretation is our own. I found them sombre and mesmerising.
His other main area of work are his totems – small free-standing pieces of found wood or old planks, bearing remnants of paint from their former existence. They are scoured and embellished by Radegonde in repeating patterns sometimes suggesting a human figure. They resonate tribal art and inspired meditative contemplation in me. From the 2015 Venice Biennale we see a series of smaller totems formed in a circle in front of a mirror.
Radegonde finds, recycles, re-purposes and transforms. He represents Seychelles' past and present in delicate and original ways. He strikes out on a different path from the local traditional domestic and landscape art, and is highly regarded for doing so. He is collected in Germany particularly – he had a solo exhibition in Munich in 2011. His work is hauntingly beautiful, and there is a message here for us in the current disposable age.
Victoria Howard