By Leslie Moody Castro
I talk about the state of Texas all the time. It has become near-mythical for its stereotypes (justified or otherwise), complicated history, right-leaning politics, and its staggering geographic scale. I am from Texas. I was born in Edinburg on the border with Mexico, and raised in Austin. My family still lives in the small town of San Benito in the southernmost region of the border area. My experiences have always traversed these two distinct places, two cultures, each with their own characters and identities. That fluidity was part of daily life growing up during the eighties and nineties, as my family and I flitted back and forth during seven-hour drives along Texas highways. Things seemed so much further away then (or perhaps that was just the 50 mile speed limit) but even today, despite GPS and cell phones, that drive still stretches unimaginably far. I have to remind myself that I am not just traveling to the edge of a state, but to the edge of a country, the beginning of a new one, and a vast expanse that contains all of the complications that national distinctions and similarities imply.
The Texan landscape is diverse, and the Sun's light falls on it with such varying intensity that it creates different worlds across Texas' quarter of a million square miles. Here, geography is defined by proximity between towns and cities, and the cardinal direction isn't always what it seems; the Panhandle is not north, but west; San Antonio is not central, but south; the border region that stretches almost 200 miles is neither—it's the border. It's a cultural language unique to us Texans. I have spent much of my life traversing the IH-35 corridor, the highway that runs north-south, bisects Austin, and connects to San Antonio 80 miles away, where a ribbon of highway systems extends across the state. The drive remains a kind of pilgrimage, but my relationship to the border and the geographies south of Austin has shifted significantly as my professional interests have evolved.
I am an independent curator and writer with a specific focus on Texas and Mexico. I relocated to Mexico City a decade ago and have spent the years since passing back and forth across the border as various creative projects have required. Driving such incredible distances requires commitment, but to travel by any other mode would be to miss the nuances of each community, town or rural locale that inform creative industry. The pace and perspective of driving also provide a way to disconnect, to think, and to prepare for the cultural shifts that are inevitable in a landscape of such profound and disparate histories. Living in Mexico City has also increased my awareness of societal difference within Mexico: For example, Matamoros—the city across the border from Brownsville—could not be more distinct from the capital. The accent is different, the food and climate are different, even the Spanish dialect is different.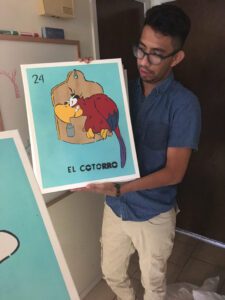 In the 277 miles between San Antonio and Brownsville, the vistas flatten into endless horizons which contrast with the greens and browns in the crop-rows lining the highway, where vendors sell fresh Rio Grande Valley citrus fruits, and ceramics. It is here, between the South Texas of San Antonio, and the South Texas of the border, that the state cleaves to embody two identities, two countries. Except, there was never a distinction until the politics and corruption of men intervened, emphasizing difference, and undermining shared experience. And yet there is convergence too: the concept of place is porous, multilayered; it's a unique region at once specific, rooted in the story of the land, but also amorphous, neither here nor there. This enigmatic terrain stretches west, nearly 300 miles from Brownsville to El Paso.
The Valley itself is a large swath of land divided into two parts. In the Upper Valley, the cities of McAllen and Edinburg have experienced significant growth—partially due to new highway infrastructure, but also due to drug-related violence that has escalated since the aughts, in Reynosa, and along the Mexican side of the border. In the Lower Valley, the city of Brownsville has undergone similar developments and migration to the U.S from Mexico.
And of course, the constant presence of the border wall separates communities and people, literally, emotionally—in every way, even though traffic back and forth never stops. It looms over the landscape, coming into view, and receding out of peripheral vision, slicing through backyards. Impossible to ignore, it is the subject of many artists' practices, exemplified by Tere Garcia who used the border wall in her work Anti-Monument (2020) a series of Lumen prints woven through the rails of the wall and exposed directly to the Sun. But the border's metallic hulk—with its devastating implications—is also normalized by familiarity and exhaustion; it's a strange, silent monument to division.
These themes of cultural connection, dissonance and distinction are palpable, and they are mirrored in the region's creative communities which each have their own perspectives, approaches, and artistic constituencies while also collaborating in shared knowledge and circumstance. Commercial gallery spaces tend to come and go, often because of a lack of collectors, in art scenes that operate largely through a social-practice lens—most recently Galeria 409, run by Mark Clark. The Brownsville Museum of Fine Art carries a torch for local contemporary artists, and welcomes practioners and visitors in the southern region of the state. It is a nexus for community-centered, educational activities. The museum is part of a longer-term cultural development, situated along a walking path in a public park, that features a sculpture garden. On the other side of the Rio Grande River (or the Río Bravo if you're from Mexico), the Museo de Arte Contemporáneo de Tamaulipas (MACT) overlooks the border. It's a central feature in a park built by the Mexican government in the 1960s to create a sensation of longing, and to encourage a desire to belong. The MACT was designed by acclaimed Mexican architect Mario Paní, and has exhibited an impressive collection of modernist and contemporary art by internationally renowned Mexican artists including Eugenia Belden, Magali Lara, José Luis Cuevas, Ismael Vargas, Betsabeé Romero, and Federico Silva.
Aside from institutions, many gallery spaces are associated with the University of Texas Rio Grande Valley system, which stretches between Brownsville and Edinburg. In Brownsville, the Rusteberg Art Gallery is a resource for both students and artists. In Edinburg, the Visual Arts Gallery serves a similar function as a space for invited artists to exhibit in, as well as a venue for BFA and MFA thesis shows. In nearby McAllen—the larger of the two cities—is the International Museum of Art and Science (IMAS) which hosts exhibitions from both fields in one building, as well as providing educational opportunities.
Almost three hours, and 150 miles northwest of McAllen, the city of Laredo is host to one of the largest border crossings in the country. Laredo's art community has an identity distinct from the Rio Grande Valley, one that leans toward the rest of the state and less to its border city counterpart, Nuevo Laredo, because of decades of intensifying drug-war-related bloodshed. Only about four hours from San Antonio, Laredo is also less removed geographically, and has historical connectivity because of the freight train system that extended from Corpus Christi and San Antonio during the 1880s. The Laredo Center for the Arts is the main exhibition space, and the core of the contemporary art scene. It recently presented "En Mi Casa" by César A. Martínez, a leading figure in the establishment and development of Chicano art and activism since the 1970s.
Housed in the historic City Hall and directed by Rosie Santos, a young and energetic arts administrator, the center is only a few blocks from the international bridge crossing. Santos herself is part of a generation of highly motivated artists including Gil Rocha, Jorge Lopez, and Poncho Santos, who is also the organizer behind MUSA Alternative Art Space, which hosts experimental, site-specific exhibitions and community workshops. Laredo is home to a modest but dynamic art scene whose members support each other in building connections and opportunities within the city and beyond.
Contemporary art initiatives in all of the border towns have evolved, as artists have come and gone—some leaving to seek exhibition opportunities elsewhere, others staying to invest their cultural capital—and as art spaces have made their marks, and closed. However, solid networks remain. In the Rio Grande Valley, artists such as Cande Aguilar, Paul Valadez, Brian Wedgworth and Aleida Garcia Wedgworth maintain links to mentorship and leadership for younger generations. Josuè Ramírez (Rawmirez), Josie del Castillo, and Veronica Gaona, together with their peers, colleagues and cohorts have expanded the visibility of artists in their border region, gaining the respect that their commitment and work deserve.
In acknowledging and building upon the paths—literal and figurative—formed by previous art workers, today's creative minds along the border are continuing a vital and under-appreciated legacy, while heightening the arc of cultural production in South Texas. As the valley region continues to attract critical interest from within the state and further afield, the work of its dedicated artists will continue to travel along those endless highways, both physical and digital. In doing so, their imperative commentary will be presented, and made increasingly visible, to a national art superstructure that has been unseeing for too long.
Leslie Moody Castro is an independent curator and writer based in Mexico City and Texas, where she has produced and organized projects for more than a decade. Her practice relies on itinerancy and collaboration, while the range of her critical writing and exhibitions illustrate her commitment to concepts of place. In addition to the belief that the visual arts can create moments of empathy, Moody Castro also believes that mariachis make everything better.