Mary Fletcher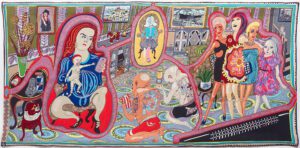 These six large tapestries show the Hogarthian progress of a male character on a 'Class Journey', using research the artist carried out when he developed his 2012 TV series All in the Best Possible Taste.
There were more people in the gallery than I have ever seen there apart from pre-covid-19 opening parties. All were masked and spaced and carefully examining the wealth of detail in the narratives and the way the fabric had a variety of textures. There was also a film running about the weaving of the work. Grayson has produced a commentary on contemporary British life and class which can be witty and ingenious – focused on white characters.
I enjoyed seeing the show. Using lengthy written captions, Grayson points out the art-historical influences on the compositions. I don't like the horror vacui and the rather monotonous tones and textures, but I admire the accumulation of observations which relate to class and taste.
When Grayson makes a pot there is a satisfying beauty in the symmetry and form, which then contrast alarmingly with the applied narrative content that can only be seen from a close look. That strange combination doesn't apply to the tapestries because although there are fascinating details to see up close, you can also see everything from a distance.
It's been a mammoth task to compile all the images, but the all-over complexity I find lessens the impact.
It's well worth seeing nevertheless and admirable in its satirical contemporary relevance.
The Vanity of Small Differences: The Exchange, Penzance, Cornwall, October 3, 2020 to January 2, 2021
Volume 35 no 3 January – February 2020