David Goldenberg
Frieze week finished on Sunday 15th October. There was a lot to see and digest, therefore the following report are my initial impressions with images of selected works and projects that l found interesting. I will start with an overview of the program during that week. The centre of the program was of course the Frieze Art Fair and Frieze Masters in Regents Park with the Frieze Public Sculpture exhibition. There was a new display in Tate Modern Turbine Hall and the Phillip Guston retrospective, at Tate Britain, a retrospective of Sarah Lucas sculptures and a new mural by Chris Ofili. At the Royal Academy a retrospective of Abramovich, and the reopening of Cork Street as the centre of art in London, and openings at galleries around London including David Zwerner, Ropac, Timothy Taylor, The October Gallery, Cork Street Galleries, Camden Art Centre, Cabinet Gallery, Pace, Haiser & Wirth, Flowers cork street, Goodman Gallery, Waddington Custot, Gagosian, Thomas Dane, Marlborough Gallery, Richard Saltoun, Spruth Magers, Frieze No 9 cork street, Gazelli Art House.
The overwhelming impression from the accumulated projects and exhibitions is one of uniformity and reinforcing of a particular way of working, and specifically the triumph of the model of the artist or cult of the artist and who is best placed to be the voice of the now and construction of the subjectivity representative of the ideas behind todays art. This was apparent in the retrospectives of Guston, Lucas and Abramovitch.
At the same time there was a sense of disconnect between the majority of the works and what is going on in the world, with a corresponding lack of context behind the work and exhibitions. This accounted for the self sufficiency and isolation of the work as art works, particularly with the many exhibitions of paintings, whether abstract or figurative and orthodox sculptures. In other words, the aesthetic vocabulary and logic that can be found is narrow and conservative. And even works that seek to address socio political issues are problematic insofar that it could be said that socio political issues simply become content for a painting or an installation, and what is more important confirms the States definition and fixing of the boundaries of the political, the social and art. I am not aware of any artists today with the sophistication or thinking and understanding to break this dilemma except for a very few number of artists working today.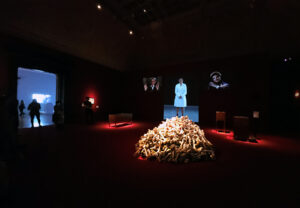 It is for this reason that I am not convinced by Guston's elevation to the painter of contemporary politics and evil through depicting the KKK, there are just too many important socio-political issues that Guston chose to ignore.
And if you take Lucas self-obsession and a project revolving around herself, appetites and tastes, however successful as an orthodox figurative sculpture and installation designer through recycling works which have not developed in 20 years, the frailty of the project as a whole became apparent in her pavilion for the Venice Biennial when seen against other pavilions, especially the German, where the work came across as self-indulgent, narcissistic and running away from the World.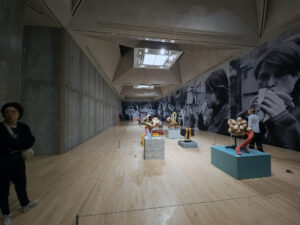 Chris Ofili's new mural for Tate Britain mourning the victims of the Grenfell Tower fire, unfortunately because of the inexplicably strange unconvincing stylisations was a disaster.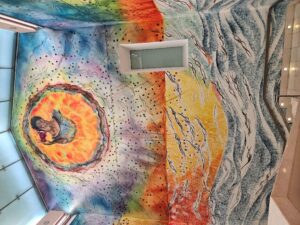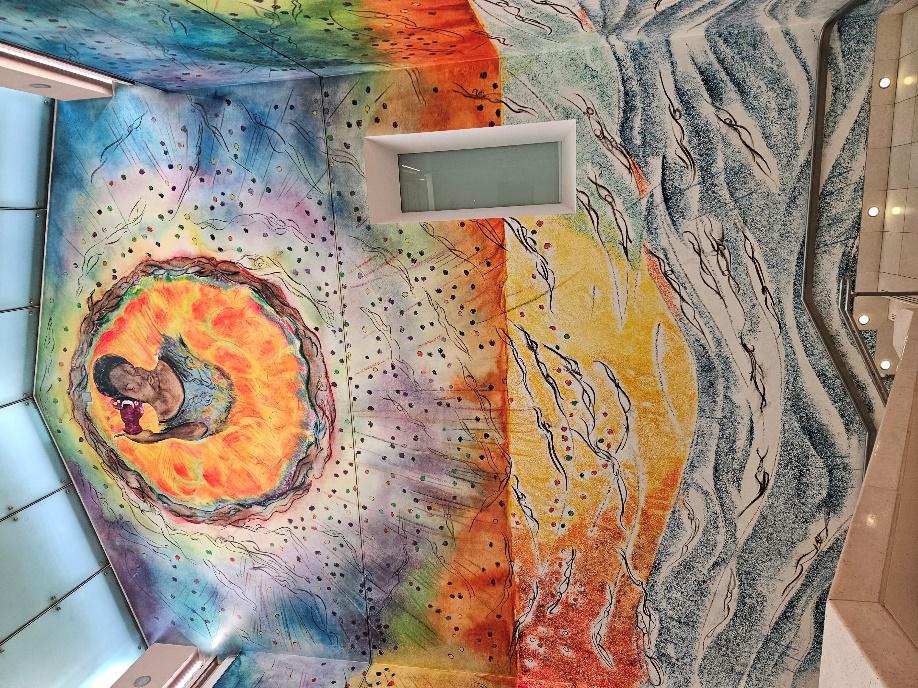 Frieze Art Fair
The muted tone of this year's Frieze Art Fair was set on the one hand by Damien Hirsts new series of paintings and on the other hand by a tightly controlled and very professional set of displays, where artists worked within a very narrow set of parameters whether paintings, sculptures and installations. This was so rigid and tightly controlled that very little was able to stand out, having said that there were of course a few interesting eye-catching installations. As to be expected the standard of production was very high but was it relevant? By that l mean did anything have sufficient insight and force to break the ideological framework. The answer must be no because the point of frieze is to reinforce a specific set of ideas and practices, yet there were a number of projects and works by Josh Kline, Walead Beshty, Wael Shawky, Mary Kelly, Jac Leirner and Saraceno, that l thought successful under the circumstances.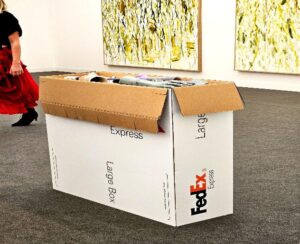 Hirst exhibition in Frieze art fair as part of Gagosian displays was a series of new medium size paintings, that continued dot and spin paintings, that are meant to be infinite and endless. And follows on from similar work shown at Phillips auction house before frieze week, veil paintings and cherry blossom paintings. Each painting depicted a crudely painted scene of flowers in a garden with thick splashes of different coloured paint across the paintings surface. In the comments under Hirsts work on Instagram, people asked why a gallery did such as Gagosian allow Hirst to show this work, work that showed such disdain for pictorial and artistic values and whose aim was to present something so mundane, over familiar, comfortable and inward looking. Nevertheless, why are the markets, galleries, museums and collectors interested in this work?
The works that l thought succeeded differed from the majority of works in art fair which appeared to search for materials and ideas, whereas these works showed a crystal-clear focus and purpose and a knowingness, they know what is going on and what they need to do in this context.
Frieze Masters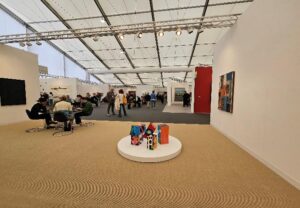 Whatever was going on in Frize art fair only made sense and became clearer juxtaposed against Frize masters, which appeared to be organised on an older model of display "the museum of curiosities." Which can only be the rationale for presenting such a disparate range of artifacts – clocks, weapons, manuscripts, pottery, furniture, rare books and prints – with pockets of works by living and dead artists. In this strange environment it was possible to discover two very interesting projects – a retrospective of Richard Pettibone miniaturisation of key 20th century American art and drawings of underground chambers.
The thought uppermost in my mind while walking around Frieze masters was is this the end point of the conservative revolution in art in the UK that we have witnessed and experienced since the mid 1990's?
In the current fashion for painting, post colonialism and work by artists from European Colonies Africa, Caribbean, which seems to fit very comfortably within European art orthodoxy, the one artist El Anatsui a Ghanaian sculptor, that l came across and was surprised by and who l had never heard of before or whose name hadn't stuck in my mind, is currently showing "Behind the moon" in Tate Modern Turbine hall, Frieze and "Timespace" October gallery. He has shown at the October gallery since the late 1990s, which is odd, although October is known for exhibiting artists from around the world, the gallery is virtually invisible in the London art circuit. The work that is on display is just one strand from a series of works, the other stands showing obvious African iconography and aesthetics. The works that gained Anatsui fame, are ambiguous works without obvious figuration and symbols, which some claim is the reinvention of sculpture, are works made from the metal of 100s and sometimes 1000s of beer bottle tops, which are flattened and sown together with wire into flat textured sheets of different sizes. So, the works recycle, appropriate and repurpose mass produced materials and symbols, that are modular and can be expanded and adapted into multiple scales and contexts. This is similar to Rasheed Araeen's appropriation of western minimalism as a sign of modernism and more convincing than Yinka Shonibare synthesis of African and Western aesthetics. It is also interesting is that a new monograph on the artist's work has just been published with a text written by the great Nigerian curator Okwui Enwezer, who pioneered Global art and curated the 2002 Documenta 11.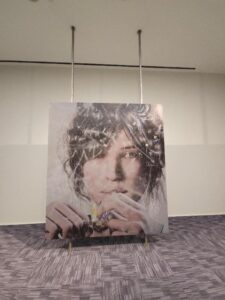 Finally, l want to briefly mention 4 exhibitions, Avery Singer "Free Fall" Hauser & Wirth, Robert Irwin and Mary Corse at Pace, Sylvie Fleury at Spruth Magers, and Atiena R. Kilfa "Primitive Tales" Cabinet Gallery. Showing sophisticated convincing installations distinct from the blasé, self-willed ignorance of many exhibitions on in London at the moment, which l have come to understand as a "new folk or naïve art", primarily lead by Labina Hamid's work, and the desire by art institutions for an art that is understandable by everyone.