Cuban Artists Tell their Story
Lanita K. Brooks Colbert
At the beginning of my unforgettable visit to Cuba, a Cuban born anthropologist and scholar told me "to enjoy our people and country, but do not try to understand us". Eduardo, a Cuban painter, and friend living in Washington D.C. whose artwork reflecting the country's history, culture, and socio-political context shared stories of the inequities placed upon the Cuban people. One can witness the sufferings of the Cuban people at the hands of island's invaders, conquerors, and rebels as that history documented by art illustrating more truthfully than the words of the historian or the Cuban government. Cuban artists' works of surrealism and magical realism creates narratives that blend reality with fantasy with key themes in Cuban art, revolution and independence, social realism, Afro-Cuban cultures, isolation and embargo, migration and identify, nature and its landscapes, gender and sexuality merging and ever-present with multi-cultural influences of the Spanish, Italian, Moors, West African and Portuguese a visual presence and recurring theme in Cuban art.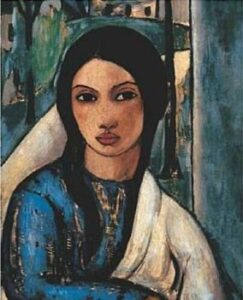 My cultural visit was led by Juanita Britton and guided by Otunba Nana Kwaku Ankobeahene II (High Chief) Nathaniel B. Styles, Jr., a South Floridan, whose career has focused on sustainable international relations with an emphasis on cultural and economic revitalization of indigenous communities. I came to Cuba on a cultural visa as the Cuban government strongly supports the development of the arts in Cuba. Of the seven possible reasons for visiting Cuba, U.S. travelers must check "for the support of the Cuban People" when traveling to Cuba. We were instructed to bring gifts for a small village in Matanzas; pencils, crayons, paint kits, games, clothing for small children, soaps, body products, fabric for sewing, to be distributed by elders to 300 persons living there needed due to the U.S. embargo of goods not only in this village, but throughout the countryside of Cuba.
Walking the promenade of Cathedral Square in Havana, immersed in 500 years of history blended into its architecture, street artists' works, sculptures, and murals, Cuba's diverse and vibrant heritage draws inspiration from African, European, and indigenous influences. The wall murals, everywhere throughout the island, is Cubans' visual storytelling, celebrating the Afro-Cuban heritage, blending elements of African spirituality, music, dance, and religious traditions such as Santeria. Vibrant colors of blue, red, gold and the purity of white, merge the rich cultural contributions of the African diaspora to Cuban identity. The wall murals tell stories of African diaspora hidden under the disguise of Catholicism including a black face Saint Barbara surrounded by African drummers and guarded by an indigenous warrior.
The National Museum of Fine Arts (Museo Nacional de Bellas Artes) in Old Havana, houses 17th Century to modern contemporary works of art in two architecturally fine buildings. The "American Mona Lisa" ("La Gitana Tropical" The Tropical Gipsy) painting by Victor Manuel Garcia, of Spanish ancestry, is a perfect example of the archetypal Cuban woman. Victor Manuel Garcia, who died in 1969, was considered the leader of Cuba's avant-garde movement. Exhibited next to Garcia's painting is Wifredo Lam's, "La Silla", (The Chair) depicting realism with surrealism. Of mixed-race ancestry, Black, Cuban, and Chinese, one of Cuba's most prominent painters, exhibited worldwide in museums, Wifredo Oscar de la Concepción Lam y Castilla, better known as Wifredo Lam, was a Cuban artist who sought to portray and revive the enduring Afro-Cuban spirit and culture in paintings such as "The Jungle" (1943, Gouache on paper on canvas, Inter-American Fund).
Opened in 1983, Havana's Wilfredo Lam Center for Contemporary Art (Centro de Arte Contemporáneo Wilfredo Lam) is a state-run gallery in tribute to Lam. This art gallery is responsible for the organization of the Bienal de la Habana, Cuba, and a permanent art collection of more than 1000 works with facilities for research and study of contemporary visual arts in developing countries. In Havana, the Almacenes San Jose Artisan Market, a 12000 sq foot warehouse of 200 artists' works, portrays heroic figures like Jose Marti and Che Guevara shouting revolution and independence while embracing social realism, depicting scenes of everyday life, the working class and the challenges facing the Cuban people since the Cuban Revolution of 1959. Contemporary, abstract, multi-media paintings, woodworking and sculptures show stories of 235 years of enslaved people still shackled to the ongoing discourse on social and human rights. Outside of Havana, amid the mountains and lush landscape of Matanzas, the Museum of the Slave Route in Cuba is housed in the Castle of San Severino which become a fort for arriving slaves in 1789. San Severino Castle is part of the Slave Route Project, Cuba, a network organized by the National Council of Cultural Patrimony in Havana, Cuba. The museum's art works are conceptual, edgy and abstract, including wooden, metal, and multi-media sculptures with bulging eyes, raised hands, open mouths, all demonstrating the horrors and brutality of slavery.
Many Cuban artists were trained at The National Arts School (Escuelas Nacionales de Arte) of Cuba, one of the most important educational institutions of the Cuban nation that. has been declared as"National Monument" where education of the Arts is free to all Cubans upon acceptance of the application process. Including post-graduate studies, the schools were conceived and founded by Fidel Castro and Che Guevara in 1961, and they reflect the utopian optimism and revolutionary exuberance of the early years of the Cuban Revolution. Over their years of active use, the schools served as the primary incubator for Cuba's artists, musicians, actors, and dancers. Most notable among the National Arts School alumni are Roberto Fabelo, a contemporary painter and sculptor and Tomas Sanchez, painter and engraver, known for his landscapes, represented in New York by Marlborough Gallery, now living in South Florida.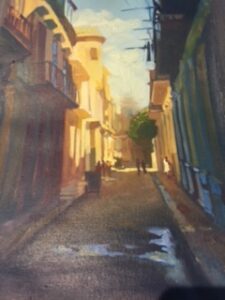 Cuban artists who can get their works out of Cuba through European and Asian brokers, are shaping the Cuban artistic narrative and amplifying its stories on the international stage as the artworks we saw, the buildings, and the sounds of infectious Cuban music, reflect the hopes, dreams, and aspirations of the Cuban people. Visiting museums and galleries was amazing, as we were able to see work not on view anywhere else in the world. As Cuban art does not travel much for exhibition. But my interest was captured by the street artists, the murals on buildings, the emerging artists exhibited in open markets and artists workshops in Old Havana and the small towns of the countryside. I purchased two exceptional small streetscapes from a street artist, Alejandro Rodriguez, on Cathedral Square in Havana. I was cautious in my acquisitions, not knowing what I can bring back home. Hopefully, the world will soon open up for these exceptional artists so we can all see and appreciate their work.