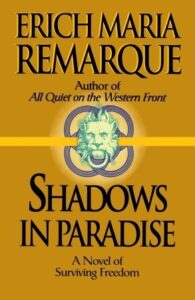 Erich Maria Remarque is remembered for his huge early success, now a classic, the best novel to come out of the First World War. The German title 'Im Westen Nichts Neues' (Nothing New on the Western Front), is more poetic but not the same meaning. Was it ever all quiet on the Western front? Outside of Europe, Remarque did not receive the critical acclaim of, for instance, Thomas Mann, and too few of his books are still circulating in the English-speaking world. A pity, because Remarque also wrote two of the best books – if not perhaps the best – ever written about European refugees, 'Liebe Deinen Nachsten' (Love Thy Neighbour) and 'Schatten im Paradis' (Shadows in Paradise). Perhaps he was too successful, too popular, too glamorous (married to Hollywood star Paulette Goddard) for the literary pundits to take seriously enough. At all events, it is the art market described in 'Schatten im Paradis' I would like to write about here.
obert Ross, the hero of 'Shadows in Paradise', a death camp survivor, lands in New York near the end of the war, with a false passport, a false name, a three-month Visa and about $50 in his pocket. New York is full of other refugees from the Nazis, some impoverished, some – early arrivals – established and thriving. Robert is soon introduced to the immigrant network and lands a job, illegal of course, first with an antiquarian who sells mainly Chinese bronzes and then with Mr Silvers, who sells mostly Impressionists. Robert soon learns the tricks of the trade and is both amused and revolted by Silvers' facile cynicism.
Silvers declares that one cannot write about paintings. Or about art. All that is written about art is there to explain it to Philistines. Art can only be felt. "I wanted to become a painter," he says. "I was a lousy painter. Have I betrayed art because I no longer paint bad pictures, or have I betrayed art because I sell them?" He is sceptical about the expertise of museum directors. The dealer risks more than the museum director as he buys with his own money and so is less able to afford mistakes.
Silvers tests Robert's knowledge and taste by showing him a pair of Degas' and a pair of Monets; which of each pair is the better painting? Robert chooses right and Silvers is pleased. Robert was a journalist persecuted by the Nazis. His own expertise comes from a couple of years spent in hiding in a Belgian museum, where he could only come out of his cellar after dark. He would wander around and look at the pictures, as much as he could see of them. Robert eventually escaped, but the kind and courageous museum director who hid and fed him is caught after a neighbour sees him making many night visits to the museum and tells her suspicions to the Gestapo. The director is taken away to die, one of the "shadows" that will haunt Robert to the end of his life.
So that is Robert's expertise, but he also knows French, so Silvers introduces him as 'my assistant, who used to work at the Louvre.' He regales Robert with more of his wisdom. Art dealers, he says are mistaken in saving money on frames; the less finished a picture, the more a good frame will enhance it. Pictures seen too much lose their lustre, in contrast to the 'virgins' that have been in private collections and almost no one has seen. These bring a higher price not because they are better but because of the lust of connoisseurs and collectors for discovery. There are now 10 times as many collectors as connoisseurs, Silvers maintains. Every social upheaval brings a change of fortunes and new collectors with money to buy, but they are not connoisseurs. To become a connoisseur takes time, patience and love. The epoch of collectors who were also connoisseurs ended in 1918.
Silvers has no gallery, no sign on his apartment door. He brings out paintings to show in his living room, one or two, usually, at a time. When a wealthy industrialist is about to appear, Silvers asks Ross to rapidly hang a Degas in his (Silvers') wife's bedroom. Silvers shows a first Degas to his buyer, then asks the 'ex-Louvre' employee, where is the other Degas he wanted to show? He tells the buyer about the growing value of Degas, how he himself has just bought back a Degas offered at twice what he sold it for. And the one in the bedroom – ah yes, says Silvers, we can go look at it, my wife is out. He is much too clever to say that his wife will be reluctant to part with it; he only lets the buyer see it. Then back downstairs there is more talk about how money inflates but objects keep their value. In the end the buyer takes both Degas' and Mrs Silvers, who's been hiding in the kitchen, can go back upstairs.
Another favourite Silvers trick is to tell a buyer that he has another good painting which cannot be shown yet because Mr Rockefeller has an option on it. This really wows the unsuspecting client and the painting soon returns and is sold … .
Robert Ross soon leaves New York for Hollywood where he gets a job advising movie producers on the correct authentic SS attire for the characters in anti-Nazi films, characters mostly played by Jewish refugees … but that is another part of the story.
Frances Oliver
Volume 32 no 6 July/August 2018 pp 35 – 36