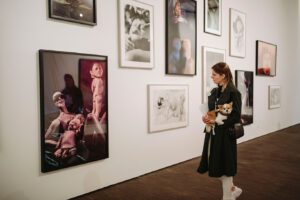 Berlin Art Fair actually lasts not a week but just five days. It is an event which stretches across the whole of central Berlin with, for instance more than 40 openings on just one evening. It comprises several separate art fairs; the ABC fair itself comprises works from a hundred separate galleries and from 17 different countries. Another complete section is the POSITIONS fair, a similarly large event spread across several large halls. Little wonder therefore that the brochure introduction by Christiane Meixner says, "Kunst kann schoen anstrengend sein"-art can certainly become stressful and hard on the feet too as there is such a wide variety of art on display and such a large quantity to see. There are, after all some 400 galleries in Berlin.
The significant fact that emerges from these crowded halls with a welter of visual display units and ingenious installations is the priority given to current social and political events. Much of the art on display concerned ecology, relationship issues, gender identity, media simulacra but, significantly, as the refugees were streaming into Bavaria there were installations that addressed designing buildings of safety. As I write this review today, I have just heard that the Berlinische Gallery will be making entry free to immigrants escaping from the Africa and the Middle East.
Perhaps, the artist that attracted the most attention was Cindy Sherman. Her show displayed more than 60 photographs from every stage of the renowned American artist's lengthy career. Sherman played both subject and artist by turns displaying herself as a magazine centrefold, film starlet, or unhappy housewife, uncannily mimicking cultural stereotypes. She also experiments in exciting ways with the tropes of art history within her conceptual portraiture. Famed for the quiet horror of some of her images, these were works throughout her career which have been collected by the octogenarian Berlin collector, Thomas Olbricht. The works shown included the remarkable black and white "untitled film stills".
US artist Paul McCarthy exhibited at the Schinkel Pavillon, a magical venue designed by the Bauhaus architect, Richard Paulick, once an official city guest house of the GDR. McCarthy worked with his son Damon for the Volksbühne a program of walk-in installation, film, performance, music and painting, "Rebel Dabble Babble Berlin"(described as a meditation on archetypes and Oedipal tensions within family dynamics) accompanied by concerts, performances and discussions on Viennese Actionism, was curated by Theo Altenberg under the motto "existence Palace".  In the Schinkel Pavillon Paul McCarthy's work dealt with the human body and its transitions; going to sleep, life and death, presence and illusion.
Many Berlin collectors grant the general public access to their spectacular collections, "Sammlungen", during Berlin Art Week. Once the interest of writers like Walter Benjamin and Stefan Zweig, this tradition is continued by wealthy software developers and Parisian architects. They all experience pleasure (Zeigefreude) in showing their magnificent assemblies. Naturally, their interests vary from concept art to retro-charm. The venues are equally spectacular from the brick dominated Backsteinarchitektur of what was once a margarine factory with magnificent views over the Spree, to the claustrophobic walls of a former bunker now covered with works by Ai Weiwei (here) and Alicja Kwade.(here)
One of the encouraging developments during the Berlin Art Week was the emphasis placed upon independent and non-conformist work. There are many happenings taking place throughout the week and some of these may be referenced on You-tube. When I left Berlin, after a two week stay, I had to pay something like an extra 50 Euros in city-tax. I feel a little better about this now having discovered that one of its uses is to support a diverse network of Free Berlin Project Spaces. Since 2009 there have been something like 200 spaces around the city which retain the oddness and originality of an era when William Reich was being read in communes. Two are worthy of special mention. A park wall in Görlitzer Strasse in Kreuzberg has designed an outside project called "Kleister" or wallpaper paste. A group of photographers have stuck posters of their pictures on a park wall. The result will be marked soon by sun, rain, graffiti and theft! Another exhibition of interest because of its connection between places and images was the work of Stefan Schneider at Kurt-Kurt in the district of Moabit. One of images taken of old wooden boats on the beach at Dungeness has a particular lyrical charm.
The whole art week is a tribute to the importance given to art in the capital city. The Art Week largely runs outside the exhibitions in the main galleries. However, the exhibition at the delightful Berlinische Galerie called "Radikal Modern" shows the incredible redevelopments of buildings and planning in general since 1960. The recovery of this city from the years of Nazi terror, bombing and Cold War division by The Wall is a tribute to the courage and imagination of its inhabitants that have recovered and built a new life from out of the rubble of the past.
George Care, Associate
Volume 30 number 2, November / December 2015 pp 22-13