by Stephen Luecking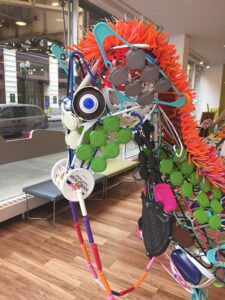 Alan Emerson Hicks salvages plastic parts in bulk quantities and then assembles these into both two-dimensional art and sculptures. These colorful leftovers from the manufacture of various common objects become art of whimsy and fancy, often with a buoyant intelligence and depth.
Hicks has realized those depths at his recent exhibit at the Center on Halstead, a LGBT community center in Chicago. The sculptures here are by far his most accomplished work to date.
Two life-size figures accompanied by two series of collages line the long exhibit hall of the Center. The figures stand like warriors at the front and rear of the exhibit to frame a wall of collages where the themes embodied by these sculptures have been fleshed out.
Hicks has twined tight strands of black plastic to convey hard muscles tensed in action, perhaps in a tribal dance or in a battle. Or more likely both, since dance is often the formalized rehearsal for battle. Plastic flecks out from the heads of the figures to evoke nimbus-like headdresses, images of power that have traditionally symbolized a god characterized by the dancer, or the enhanced state of being generated by the dance.
Hicks' two series of collage drawings parcel off these two themes.
In the first he turns to the familiar pop culture meme of comic superheroes as demi-gods. He handles this meme by modeling his images on illuminated psalters of the late Middle Ages. The elaborately-framed collages are modest in scale, about that of a psalter page. They position the 'sacred' figure in the center, which Hicks surrounds with metallic colors in the guise of candy wrappers he has gathered from caches of candy illicitly consumed by his students during class. These give a nod to the gold and silver leafing that adorn the psalters.
The second series features black on white silhouettes of dancing androgynes framed by colorful collaged friezes. These starkly reference the actions of legendary characters as depicted on Attican pottery, while also echoing the exhibit's two figure sculptures. Hicks' sculptures also hearken back to Greek roots of Western culture. One can detect allusions to Myron and Bernini in the frozen action of his two figures.
His materials are lowly cast-offs from industry, but he twines from these a recollection of past nobility.
Super Series, Plastic Clothes hangers, Found Objects on Steel Rod Armature. Center on Halsted, 3656 N. Halsted Street, Chicago, Illinois 60613
Volume 35 no. 1 September / October 2020