Stephen Westfall
    50 Years of What The Hell Just Happened 
Well, congratulations to The New Art Examiner on its 50th anniversary!  Some 47 or 46 years ago I received my first mention in a publication outside of Santa Barbara, where I was in school, for participating in a group show at West Hubbard Gallery in Chicago.  I think my work was called "boring," or "predictable Minimalism," by the thrill-seeker writing the review, but the real shock was seeing my name in a publication halfway across the country.  As far as I was then concerned, that was national!  It was also print, long before the internet was even a gleam in Al Gore's bloodshot eye. 
      And since we're pondering what are the largest changes the artworld has undergone over these 50 years, we would have to cite that which has re-cultured us all:  the internet, of course.  It has also changed art education and journalistic research, ultimately putting the world library of images at our fingertips: a museum without walls so seductive that we must be wary of weaning ourselves from the haptic shagginess and concrete scale-relations of the real thing.  The processing of images through reproduction has been underway since the invention of the terracotta mold and the woodcut, but if mechanical reproduction was an accelerant, the internet has been nuclear fission.  We now swim in an almost pornographic surfeit of images, wherein actual touch is indiscernible and ultimately unimaginable.  And yet, this immediate proximity of images is also capable of providing instant inspiration, corroboration and correction.  Like all Promethean tools, a judicious usage beckons us to an ever higher and more complex level of responsibility even as it drops the world in our lap.  
     Even before the internet took off, the artworld was undergoing another, more catastrophic development.  The AIDS pandemic was to wreak havoc across the international art community, which has always been a place of relative welcome and refuge for homosexuals compared to most other walks of life.  As with the Covid pandemic, the reaction from government was slow, but this slowness was exacerbated by political cruelty and indifference.  The activist response was heartening, reacquainting us with grief and rage as content that could form a bond with artists of other marginalized communities.  Artists of color, diaspora and sexual/gender diversity come immediately to mind.  I'm not so sure that such a bond has been completely forged, but the potential remains.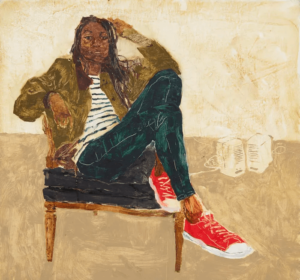 What I am sure of is the importance of the surge of interest in and support for artists of color, many of whom have been practicing for decades, and the restoration of artists of color to the center of critical movements of art in the 20th century.  Since I am a painter, I tend to think of painting first, and I have had my own perspective broadened by Darby English's 1971: A Year in the Life of Color, which discusses the essential contributions of black artists to the various iterations of abstract painting that flowed out of and beyond abstract expressionism.  And any discussion of contemporary abstract painting and sculpture had better include Stanley Whitney, Odili Donald Odita, and Torkwase Dyson, along with historical grounding in the work of Alma Thomas, Ed Clark, Al Loving, and Jack Whitten in order to be taken seriously.  The concurrent rise of black figurative painting to the foreground of contemporary attention is itself of a cross-generational vitality and complexity that will be unpacked historically and critically for generations to come.  But I'm glad to be a painter in a world that celebrates Henry Taylor, Kerry James Marshall, Jennifer Packer, Kara Walker, Richard Mayhew and Lynette Yiadom-Boakye, among so many others emerging into a well-deserved foreground. 
     I haven't mentioned the hyper-capitalist art market phenomenon of the proliferation of art fairs, the movable blood feast of artworks on the killing floor, because I don't really know what to make of them, except they're not a place to see art.  More of a place to weigh it.  Biennials have become art fairs themselves, even as they promise deeper engagements with individual artists, in that they beckon well-heeled travelers to cities and nations much as, say, the Olympics do. Or museums, for that matter.  I prefer museums, though.  For the most part they are a little emptier and I can occasionally escape the Perpetual Contemporary.  
     Looking ahead, AI is here, G-d help us, but like a lot of beginning art students, it still has a hard time finishing hands.  Chat GPT is now a writing tool for students, melting biographical facts and preferred syntax into digital candlewax.  The future of art journalism and criticism itself is ever more challenged by the capitalist marketplace.  Once great art journals, if they're still publishing, run articles like "Report from Frieze-Bakersfield," or "10 Best (or 'Rising') Whatevers."  The New Art Examiner might continue to flourish just out of the spotlight, which strikes me as a good, independent place to be.  There are other print and online sites where interesting coverage is taking place:  The Brooklyn Rail; Two Coats of Paint, the venerable Bomb Magazine, and Hyperallergic, all come immediately to mind.  I'm sure there are many more across the country and globe.  Art continues to weave dreams and nightmares in faith and irony, much like life, and we will need to discuss, praise, and deconstruct its ongoing catastrophes. 
Stephen Westfall
November, 2023