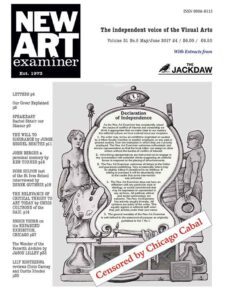 In the May issue:
THE RELEVANCE OF CRITICAL THEORY
CHRIS CUTRONE Chris Cutrone (Adjunct Professor of Art History, Theory and Criticism, School of the Art Institute of Chicago .
A BRUSH WITH JOHN BERGER, HIROSHIMA AND THE KITCHEN SINK
KEN TURNER remembers his personal meetings with John Berger over Hiroshima., the Kitchen Sink Painters and the Partisan Coffee House.
THE LAST ROSE OF A ST.IVES SUMMER
DEREK GUTHRIE interviews ROSE HILTON, painter and widow of ROGER HILTON, about the St Ives Group.
CHICAGO'S EXPANDED EXHIBITION
BRUCE THORN at the Gallery Weekend Chicago Presents Expanded Exhibition March 9-12, 2017.
APPROACHING A MANIFESTO
TOM NAKASHIMA takes a journey through his thoughts and experiences as an American artist with a unique world view.
PENWITH ARCHIVE
JASON LILLEY talks about the Penwith Archive, a buried treasure still under wraps.